#e-commerce
#headless
#shopsystem
#composable commerce platform
November 22nd, 2022
12 min

Jörg Blache
Finding the Best E-commerce Solution for Your Digital Business
Whether the imminent relaunch of your existing online shop or your first steps in e-commerce, the starting questions remain the same: Which shop system meets the requirements? Which provides optimal functionalities, communicates with the system landscape and scales to future requirements via regular updates? What is the best e-commerce solution for my business model?
These complex questions have no stock answers. Every customer is unique with differing needs. Every solution can only be uncovered through thorough individual case analysis. The following overview is a comparison contrast of four popular shop systems. Taking current e-commerce technology trends into account, we intend to demonstrate what we see as important advantages, as well as to generally inform.
The market offers a variety of solutions to get started in e-commerce. Each platform has its own subtleties, but at its core, it is always about presenting and selling products and services online. Here are four of the most popular platforms. When assessing a suitable e-commerce solution, the choice of shop system should be based primarily on your needs, goals, requirements and factors such as IT skills and resources.
Integration capability with regard to existing interfaces to ERP and other third-party systems (API-based)

Suitable out-of-the-box functionalities for the business model to be mapped

Scalability and future viability of the technology

Total cost of ownership for the technology

Intuitive user interface for shop operators and target customers

Handling, functional scope and flexibility of the CMS

Availability and costs of extensions and themes

Internationalization and multilingualism

Intended industry and target group of the shop system provider

Existing marketing features, such as search engine optimization (SEO) and email marketing integration

Support for suitable hosting strategy (cloud-capable)

Potential development effort
Spryker as a Versatile E-commerce Solution
Spryker is an innovative online shop solution for transactional business models. Founded in 2014, our newest solution, applied specific results generated by other e-commerce companions to build an ecosystem that meets all modern requirements. The Spryker technology platform represents an optimal system for mapping individual and more complex business processes. Medium to large sized companies wishing to achieve a high degree of e-commerce software individualization, due to a demanding business model are Spryker's primary target group.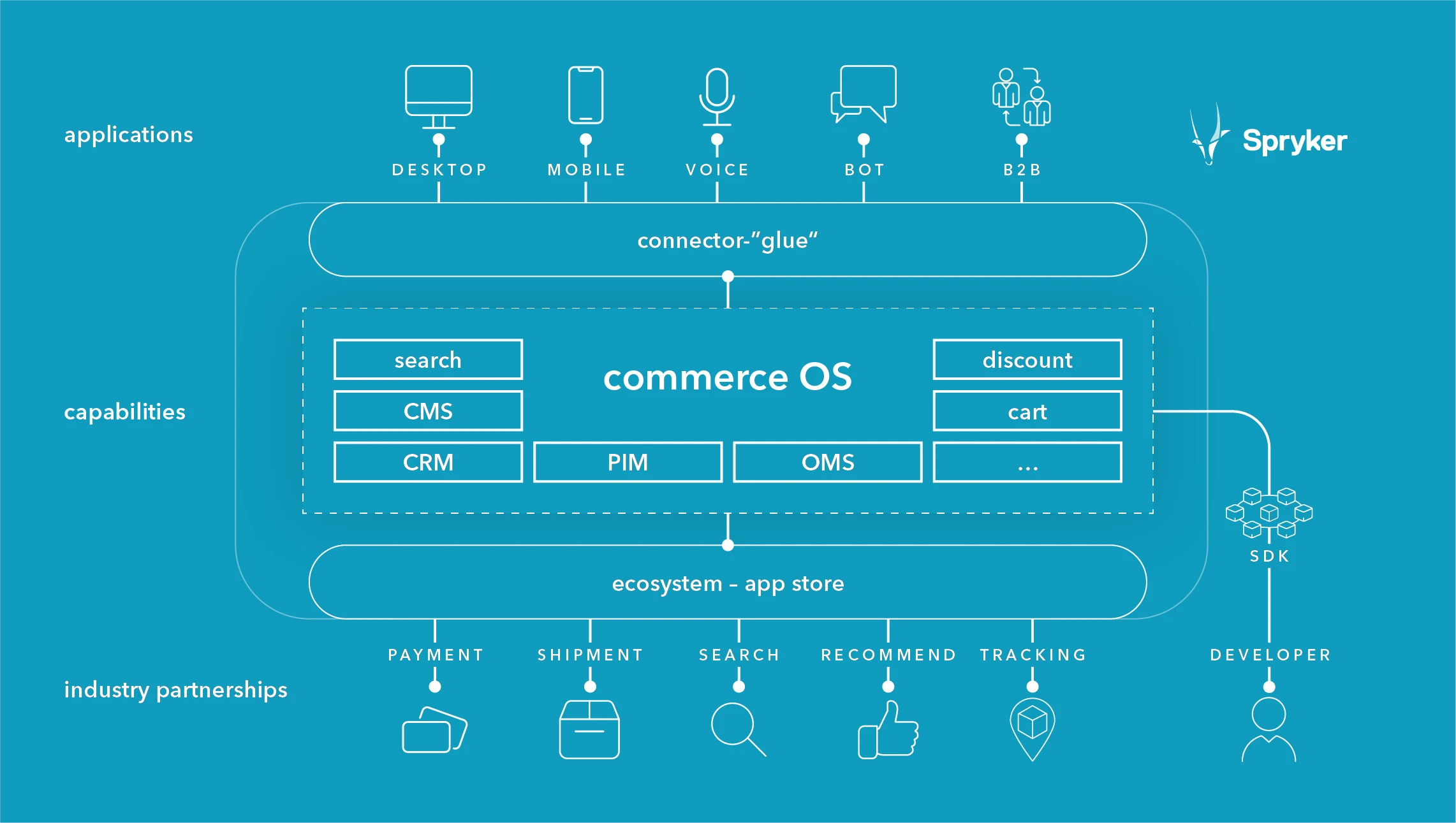 Spryker provides a comprehensive module set of features and functionalities that can be individually tailored for any business B2B and B2C case. Additionally, the e-commerce solution is characterized by its consistent modularity: All modules are independent of each other and can be configured and individually placed. Spryker provides very high degrees of freedom and flexibility for online business. There is no rigid processing here, but the online shop can and should be individually adapted to one's own business case and project requirements. Great added value results from the fact that only necessary modules are used. This makes it possible to keep the system lean while minimizing costs, operation risks and in keeping further development cost low. The greatest advantage in use remains the consistent avoidance of standard processes.
The aim is to implement a system with Spryker that is precisely tailored to your own business model and project requirements.
Advantages of Spryker as an E-commerce Solution:
• Mapping of individual transactional business cases
• Modularity through the principle of packaged business capabilities
• Very good multi-channel capability through Glue API
• Seamless integration into existing system landscape through LINK middleware
• Composable commerce architecture according to best-of-breed approach
• Classified as a visionary by the market research company Gartner
• Extensive and flexible order management, including order split, multi-warehouse capability and control of processes with the Spryker State Machine
• Enterprise marketplace functionalities
• Extensive B2B functionalities
• Cloud-native
The open code software Spryker primarily focuses on flexibility and is aligned with both the API-first approach and headless commerce throughout. By separating front-end and back-end, a progressive web app (PWA), IoT application or voice commerce apps can be connected. Various features are also individually provided in independent modules that can be combined as needed. Additionally, Spryker provides its own middleware, meaning that third-party software such as ERP or PIM systems can usually be connected problem free.
With the API-centered composable commerce of Spryker Commerce OS one can use, for example, a consumption forecast when recording stocks in the warehouse in order to automatically generate order suggestions. Another advantage of Spryker is that special requirements of the respective business model can be served individually. The task of the CMS used, search, product recommendation logic, checkout systems, etc. can be taken over by the best solutions for the respective deployment.
Shopware Combines Technology and Design - The Intuitive Shop System
Shopware is the ideal solution for a broad target group of companies that want to build or expand their digital sales channel. Shopware is an online shop solution that perfectly combines content and commerce. The harmonious interaction of comprehensive out-of-the-box e-commerce, CMS and marketing functionalities makes it possible to create customer-centric shopping experiences quickly and easily.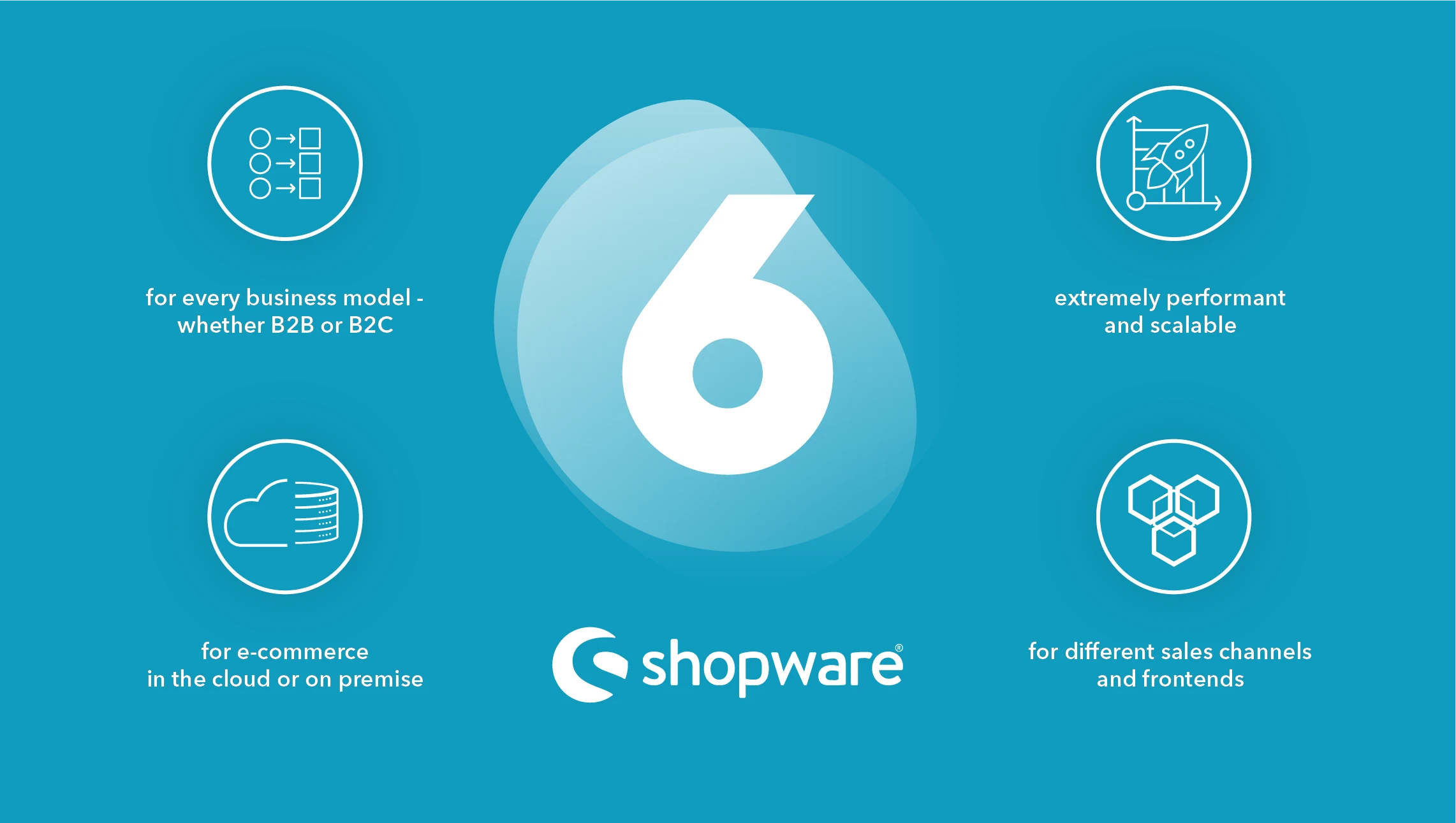 Shopware is the most intuitive shop system for administrators in the group. With the latest version Shopware 6, Shopware provides an optimal technology that offers shop operators a platform to offer products to their customers and the market in a flexible, modern and customer-centric way. Shopware provides numerous out-of-the-box functionalities that make it possible to adequately address almost every sales channel and every target group (B2B & B2C). Shopware's approach focuses on configuration rather than programming. This should make it easy for shop operators to intuitively set up an online sales channel.
Shopware's modularity is characterized by the fact that functional extensions and individualizations are solved through plugins. Thanks to the large Shopware community, a wide range of functions and over 3,000 plugins are available in the Shopware Store. The large and active community is definitely an advantage of the shop system: there is a tutorial on every relevant topic, whether it is plugins, themes or designs. In addition, there are countless forum posts with useful information from the community.
Shopware is designed from the ground up to be API-first. The system enables seamless integration of third-party systems and the creation of cross-channel and cross-device shopping experiences. In addition to the classic online shop front-end, it is possible to connect further front-ends such as mobile apps, voice assistants or IoT applications using headless commerce. The Shopware 6 standard version offers many comprehensive functions. It is a modularly expandable open-source program, adaptable at any time. The responsive front-end design is just as standard as the clear back-end.
In 2022, Shopware entered into a strategic partnership with PayPal and Carlyle and was able to gain important growth capital for international expansion and product development.
Shopware: Advantages of the E-commerce Solution:
• Made in Germany - focus on DACH region (expandable to EMEA)
• Extensive out-of-the-box e-commerce functionalities
• World of experience for content pages
• B2B Suite for B2B functions
• Intuitive operation of the platform
• Intuitive set of rules for controlling business processes without technical understanding (Rule Builder & Flow Builder)
Magento Becomes Adobe Commerce as a Flexible E-commerce Solution
The online shop software Magento was first released in March 2008 as an open-source e-commerce platform and is now one of the most widely used shop platforms on the market. In 2018, the shop system was acquired by Adobe, renamed Adobe E-Commerce and is part of the Adobe Experience Cloud.
The online shop solution based on the Zend Framework is multi-shop capable and offers internationalization thanks to multilingualism. The platform also has a large open-source community and is used as a solution in both B2C and B2B sectors. Magento is a globally distributed shop system with around 200,000 installations. This makes it the most widespread system geographically with a correspondingly large international footprint.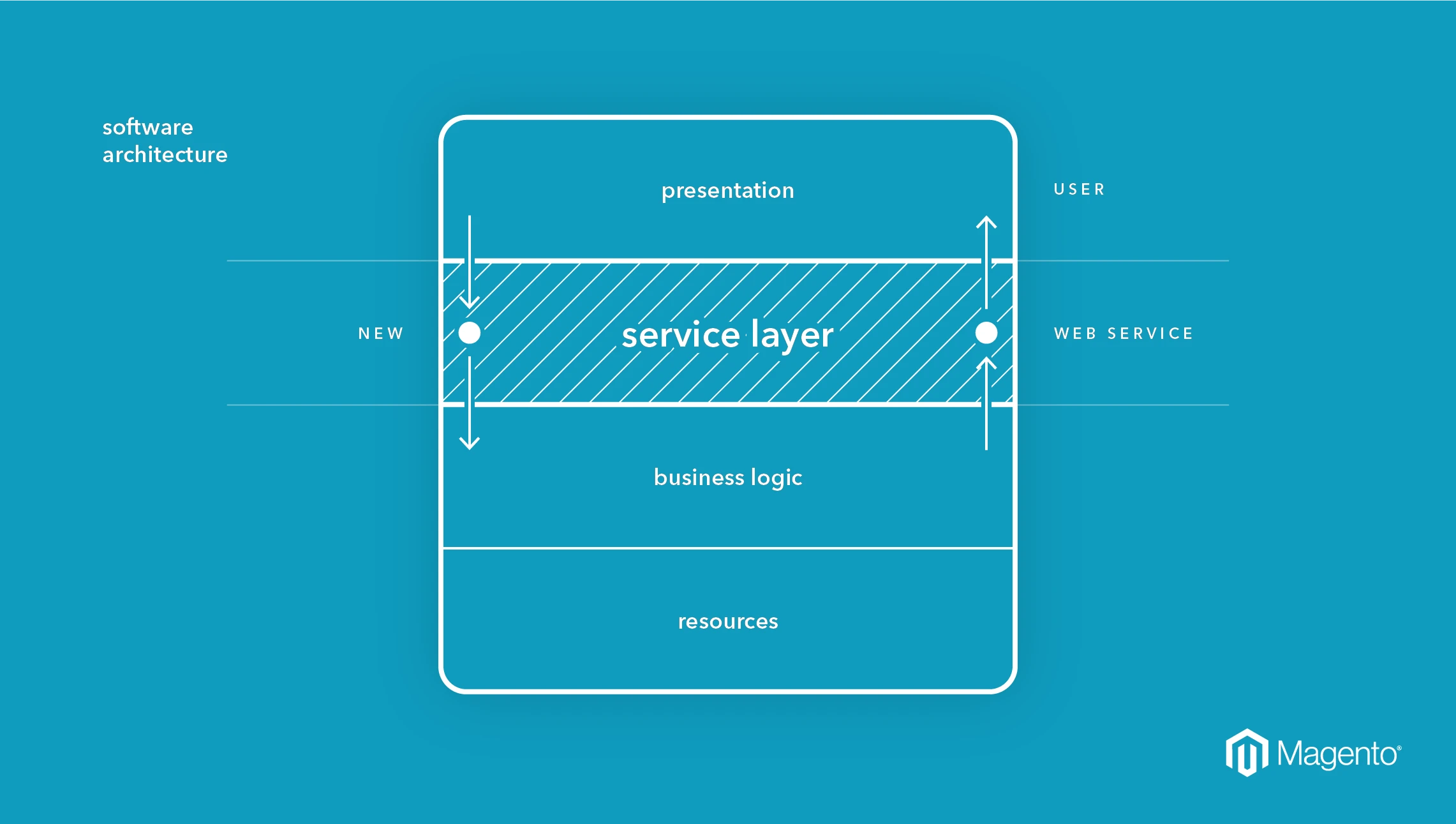 Important Advantages with Magento as an E-commerce Solution:
• Internationalization thanks to multilingualism
• Many extensions to interfaces (APIs)
• Multi-client capability and multisite architecture
• Integrated Adobe Sensei AI to improve the customer experience through recommendations and personalization
• High usability through extensive administration tools
• Good e-commerce functions for SEO
• Marketing, promotion and social commerce features
One of the biggest advantages of Magento is its optimal scalability. Merchants can start selling quickly and grow the infrastructure and design in parallel to meet customer needs. For this purpose, over 4,000 extensions are available for modification in the Magento Marketplace. The platform itself has an easy-to-use user interface with numerous customization options. No knowledge of style languages such as CSS or HTML is required.
Magento provides a free version as an entry level (Community Edition), which is aimed at entrepreneurs and start-ups. However, additional support and the use of extensions are chargeable. These extensions include diverse functions in the areas of payments & security, marketing, accounting & finance and such.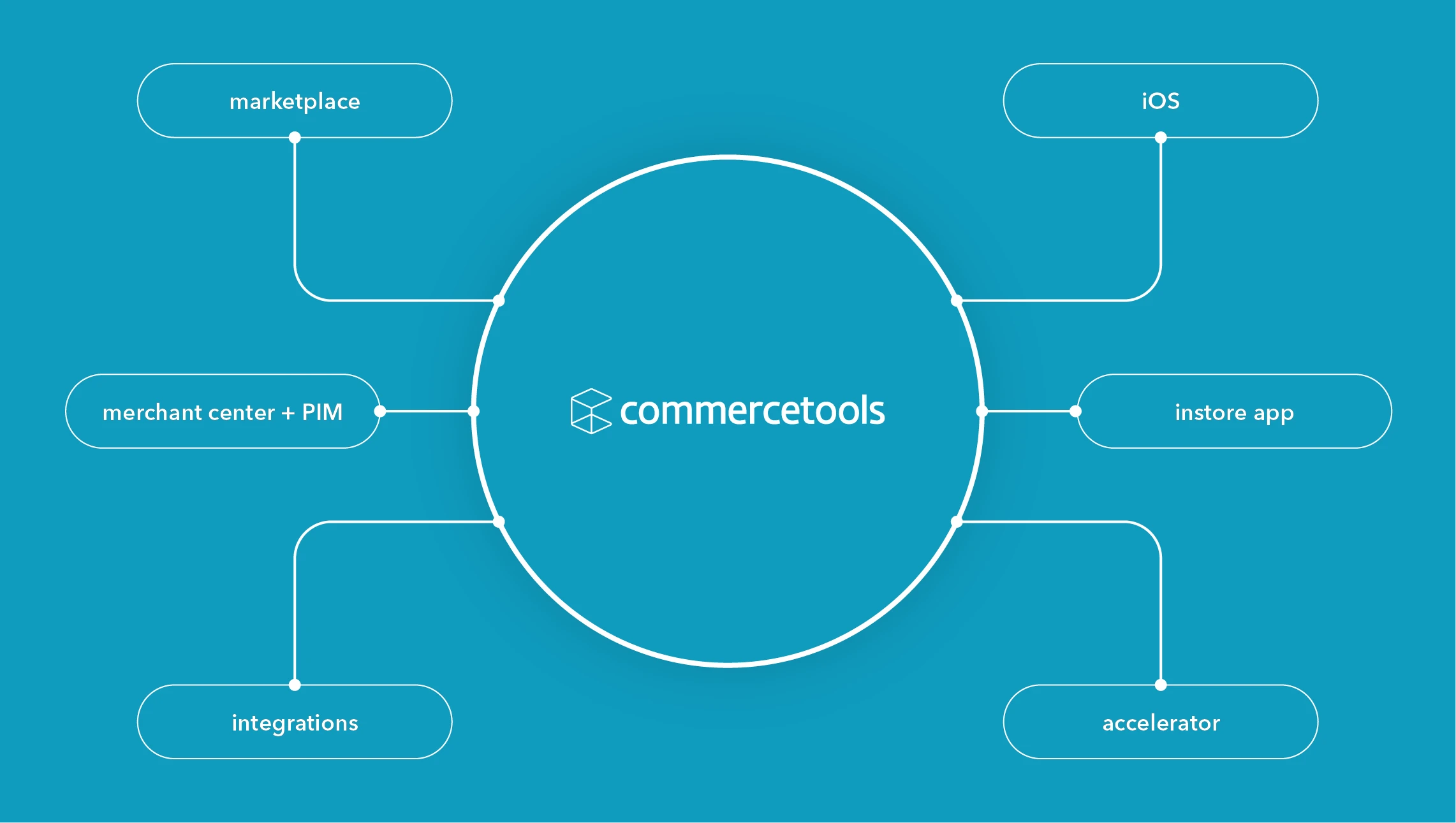 The vision of commercetools is to provide a centralized e-commerce platform that can serve every channel, every brand, every front-end and every application. Here, the technology, the headless approach, is the central driver - whether for B2B, B2C or B2X. Headless commerce separates the user interface, through which the end customer perceives his online shopping experience, from the backend component. Commercetools focuses on the backend component and acts as an e-commerce engine to centralize all channels and touchpoints.
The company was founded in Germany in 2006 with the aim of moving e-commerce systems from the "on-premise world" to the cloud. To date, the approximately 400 employees have supported more than 360 customers in switching to modern commerce technology.
Advantages of the E-commerce Solution Commercetools:
• Simple, fast maintenance
• Auto-scaling and cloud first
• Extend capabilities of commercetools with 50+ API endpoints,
• Full project backlog (500+ user stories).
• Comprehensive set of B2B interaction designs.
• Build and deployment pipelines
• Automated unit tests
• Predefined APIs for standard business functions (PIM, CMS, CRM, Search)
Content migration tools (CMS)
Mindcurv has developed the B2X Accelerator as a special asset to add B2B functionality to the proven features of commercetools. The B2X Accelerator, as a continuously evolving toolkit of different API endpoints, user stories and predefined business processes, is now used globally by companies in the furniture, building materials and retail industries.
Conclusion: Finding the Best E-commerce Solution for Your Business
Depending on which e-commerce solution you choose for migration, relaunch or the start of your online business, the project is always linked to important strategic decisions and should follow a clear roadmap. It is recommended that you set your online business goals in advance with clear milestones. Furthermore, the needs should be compared with the respective functionalities of the e-commerce solutions and an appropriate online shop solution selected. When choosing a shop system, you should heed the assessment of external experts. Providers and shop platform operators such as Shopware, Magento, Spryker pr commercetools offer you many options for a professional online shop with solid development potential.
We Support Your Shop System Choice
We are pleased to offer you our consulting services through our igniti e-commerce consultants. Together, we will assess which e-commerce solution is best suited for you and your target groups needs. With a shop demonstration, we can offer you insights into the best respective e-commerce solution with important features and functionalities for your business.