#customer experience
#headless
#mach
April 19th, 2022
6 min

Daniel Müller
Innovating with MACH (Part 4): Evolutionary Platforms with Headless
The world of SaaS is all about the search for 'more'. A more advanced customer experience, a more flexible platform (including future redesigns), more opportunities for personalisation, more speed of delivery, etc. MACH is, of course, the obvious answer. We've already looked at how business capabilities should determine microservices, the business value of being truly API-first, and the why and how of going cloud-native. Now let's look at how the businesses of tomorrow can r°evolutionise with Headless.
So, what is Headless?
Headless is when you define the 'head' of your platform or application only when you need it. Not pre-built for a specific device type or front-end configuration. Not even linked to any other parts of the platform. Decoupling the front-end user experience and the back-end of a platform allows each to operate and evolve independently – changes on one end do not require corresponding changes on the other.
Instead of a 'viewing' part of your CMS or commerce platform, there is a flexible API in its place that can serve data – be it a blog post or registration and login workflow, a customer profile, an event or product page, or a purchase pathway – wherever you want. It doesn't matter if it's a web app, a website, or some brand new device or one that hasn't even been invented.
A Headless system works even without knowing the client or where it's going to be used. Our partner commercetools does this extremely well!
What are the Benefits of Headless?
Before you get started with Headless, ask yourself – how are your conversion rates looking across different devices and channels? How important is it to have a flexible, fast, and customisable solution instead of an all-in-one platform? Going Headless has many advantages but be sure that they are the advantages that your business needs:
Flexibility: Add new touch-points for interacting with your customers and provide customised experience across various devices
Business Autonomy: Ability to make changes independently without IT intervention or updates/redeployments of back-end systems.
CX Touchpoints: New customer touchpoints and channels can integrate with a single consistent API to the backend.
Customisation/Flexibility: Not being confined to a specific system's template or plug-in selection means you have full control to create unique experiences.
Scaling & Performance: Scale your front-end separately from the commerce stack and maximise your site performance.
Agility/Speed: Make changes to the customer experience quickly, efficiently, and continuously. Front-end changes can occur with faster testing.
Truly Future Ready: Organizations can swap and enhance the user interface and CMS tools without replacing the entire commerce stack.
Is Headless the Right Fit for Your Business?
If you're new to e-commerce or operate a traditional commerce model without complex user journeys, a simple turnkey solution might be all you need. While there are many benefits to adopting a headless approach, implementation is not a trivial matter.
Is Headless a good fit for your organisation and commerce strategy?
Consider these 2 examples – they represent the typical inquiries that we get.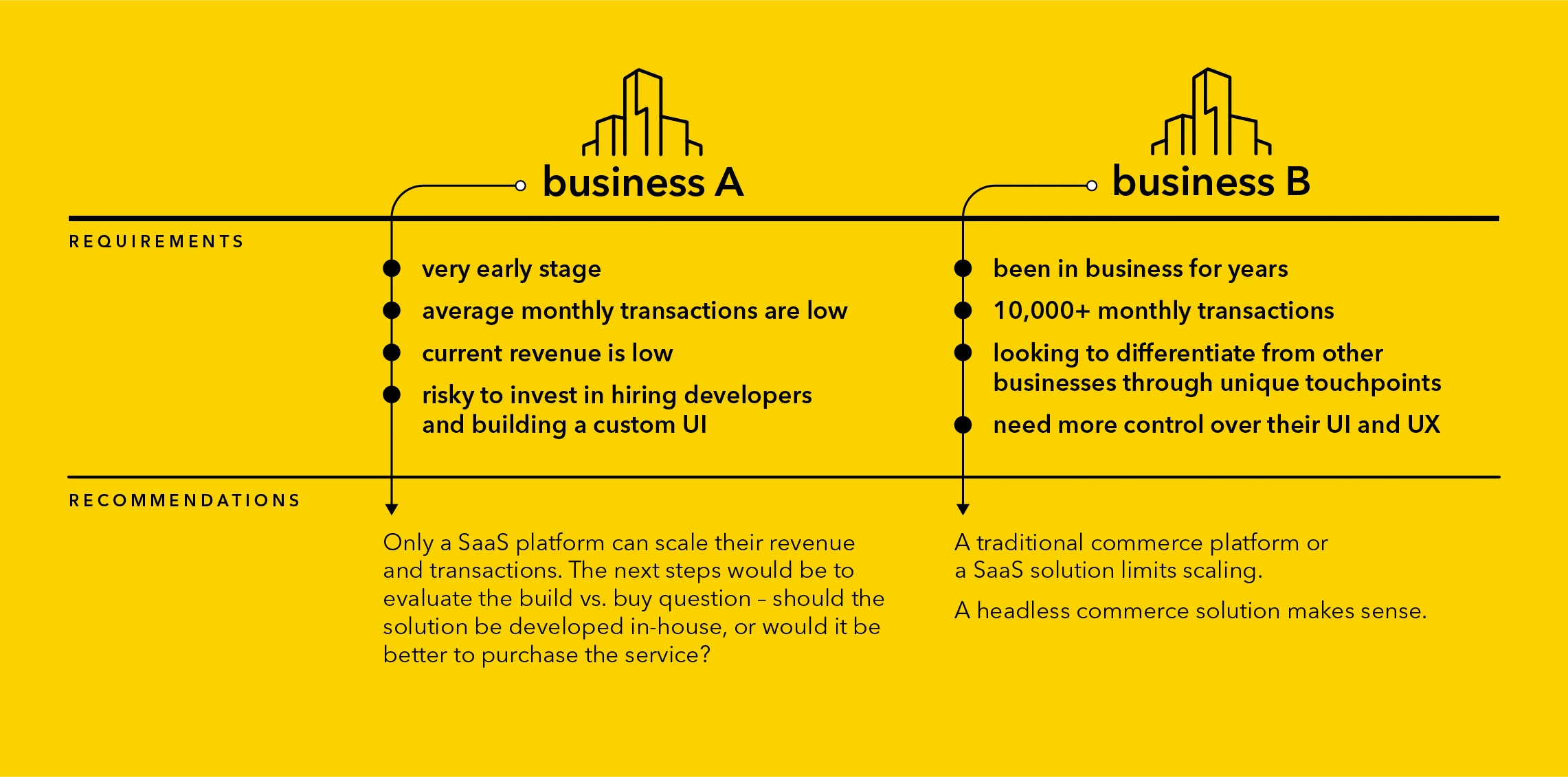 I've put together these best-fit characteristics to see if Headless would suit your priorities:
Content-Rich but can't wait for IT
You want to be able to deliver dynamic, design-heavy elements without waiting for IT. You might also need more creativity and development freedom. You need a way to remove the roadblocks typically associated with specialised content, saving time to market and money.
Experience Complexity
You need to be able to support unique customer experiences across the commerce enterprise (e.g., multiple brands, multiple regions, or multiple microsites). Your architecture needs to give you the autonomy to create unique experiences without being restricted by templates or a set format.
Channel Complexity
You support many customer touchpoints/channels (in-store kiosks, virtual assistants, third-party platforms, etc.) that require a unique and non-standard design experience. You need a framework to support endless customisation.
Evolving Business Models
You run B2B and B2C models that require different designs and distinct content supported by a single site. Or you might support a B2B2C channel with its rules and interfaces. You need to be flexible and support various business models.
Unknown Users
You may need unique Uls in the future and would need to quickly pivot to cater to a whole new customer experience (think metaverse, heads-up displays in cars, hologram-based virtual assistants). You need to be able to support the necessary technologies as well.
Keep in mind that business requirements are only part of the evaluation. It is equally important to evaluate your organisation's ability to implement, support, and maintain a headless architecture successfully.
Is your IT ready for Headless?
Going the Headless route gives you a personalised system – the best of both SaaS and custom solutions in one package. While it does free you from IT reliance to an extent, it still requires technical expertise and IT involvement to get started. Keep in mind the following crucial IT considerations:
IT Capability
Can your IT team support a custom, open-source, or distinct front-end system? If not, you need to engage a System Integrator (SI) for implementation and ongoing support.
Technical bandwidth
Do you have the capability to integrate third-party applications (e.g., personalisation solutions, search solutions) with your platform? Maybe you're better off with expert support.
Build vs Buy Front-end Solution
Going with a Headless architecture means you have to build or buy a front-end experience solution. Do you have the capability to compare the pros and cons of each?
Hosting Costs
You don't want runaway hosting costs just because you switched to a headless platform. You probably need a partner who can realistically plan and optimise your hosting budget.
Get in touch with our experts to find out if Headless makes sense for your business priorities. You don't have to start from scratch if you use the B2B Accelerator+ , with its pre-built use cases and standard features, available as 50+ API endpoints, a Kubernetes accelerator to take you to market faster, and a headless system on commercetools.