How ista's EcoTrend Mobile App is Driving Sustainable Energy Consumption
Approach
Stopping Climate Change with Energy Consumption Data
The European Green Deal - the landmark agreement to combat climate change - aims to make the EU climate-neutral by 2050. The Energy Efficiency Directive (EED) provides guidelines to meet the emission reduction targets and reduce primary energy consumption.
More transparency for less energy consumption
ista International GmbH is one of the world's leading companies for energy services, including consumption-based billing. Operating in 22 countries, they service customers in more than 13 million residences. They do this through more than 60 million installed measuring devices. Until December 2021, residents were only provided yearly energy consumption information, usually through printed letters from landlords and property administrators. But with the EED coming into force, landlords are now required to provide this data digitally every month.
Solution
Encouraging Energy Savings among Residents
ista now provides residents' monthly energy consumption data through their EcoTrend mobile and web apps. The data is clear, transparent, and presented visually, geared towards encouraging energy savings. The EcoTrend mobile app is a new channel to provide additional value to residents. To do this, ista needed a highly available cloud-based app to deliver fast and consistent data to enable a fully digital customer journey.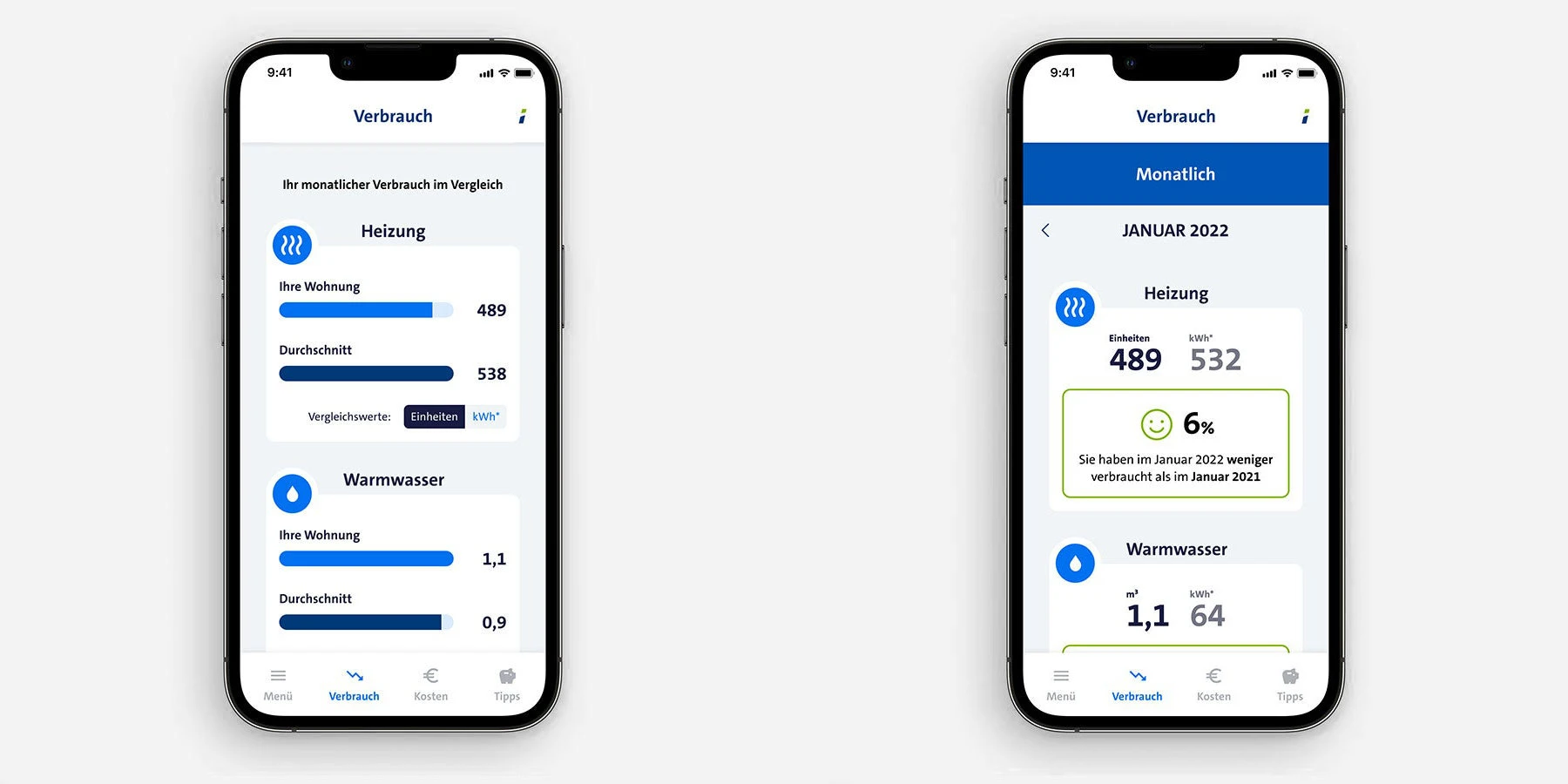 Outcome
iOS, Android & Web Apps with MACH
Ista partnered with Mindcurv for the architecture, development, and infrastructure of the EcoTrend mobile app for iOS and Android and the cloud platform on Microsoft Azure. We adopted the MACH approach and defined each packaged business capability as domains and microservices with separate processes, logic, scopes, and specific functions, using the CQRS pattern. Individual workflows can be updated, deployed, and scaled independently. Mindcurv worked with ista from defining these domains to taking the apps live on the app store.
The platform is built API-first and future-ready. Mindcurv also built APIs specifically for bigger housing associations to monitor their properties while being GDPR compliant. The development followed agile principles and the ARGE standards. Parts of the application are being moved to the Azure cloud while keeping sensitive data on-premise. The platform meets the highest data protection requirements and insulates the current resident's data from homeowners and past and future residents.
The hybrid mobile apps are available on iOS and Android app stores and share the same source code as the PWA web app. This reduces the development effort and time. Residents can download the app from the store, sign up and see their monthly energy usage. They can compare their consumption behavior against the same month of the previous year, the previous months, and similar flats. Environmentally conscious residents can stay informed about their CO2 footprint, while savings-conscious users can benefit from the updates on the monetary impact of their heating behavior. New features to give customers concrete energy-saving tips and enable them to compare their energy consumption with their social environment are also in the pipeline.
tl;dr
Success Driven by Agile and Mix-Shoring
Mindcurv continuously collaborated with ista, running over 20 microservices with a small global team. We aligned the ista team to the agile approach, and we've received a lot of positive feedback on our mix-shoring model of working.
Sector

Energy Consumption Monitoring

Solution

iOS, Android and Web Apps, Cloud Platform

Technology

MACH, Microsoft Azure Cloud
Christof SanderChief Client Officer/Chief Sales OfficerMindcurv, Essen+49 (0)201 99986 30